Description
WHAT MAKES THIS PRODUCT :
Hibiscus:
It a Flower extract with ability to unclog pores and treat oily skin. The AHAs found in hibiscus, specifically malic acid and citric acid, gently exfoliate and brighten the skin. There's a good reason you should use hibiscus flowers if you are suffering from hair fall. Rich in vitamin C and amino acids, the flowers improves the blood circulation under the scalp to stimulate healthy hair growth.

Shikakai:
It is reputed to have exceptional and very mild cleansing properties for the scalp, to be a conditioner for the hair and to support the removal of dandruff. Shikakai is naturally very soft for hair and it is an excellent detangling. Being a potent anti-bacterial, shikakai is quite effective in treating various skin infections like scabies and also reduces signs of ageing.
Flaxseed Oil:
Flaxseed oil is a source of rich polyunsaturated fatty acids & helps in weight Loss, removes cellulite, & reduces eczema. Another benefit of flaxseed oil is that it moisturises your skin and hydrates it from within. The essential fatty acids in flaxseed oil smoothness your skin's appearance and makes it super soft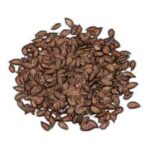 DIRECTION TO USE:
Take required quantity, gently rub your hands together so that the gel evenly distributes. Apply by brushing your hands through your hair from root to tip