Description
WHAT MAKES THIS PRODUCT SPECIAL:
Activated Charcoal:
Natural Exfoliate and toxin absorbent. It cleanses, exfoliates, absorbs impurities & leaves behind a flawless & clean skin. The result is smooth, supple, and even-toned skin. Dirt, toxins, heavy metals, chemicals, and other poisons are attracted to the charcoal molecules and washed away.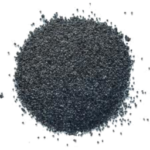 Kaolin clay:
Its a natural clay known for its cleansing and purifying properties. It is typically used to draw out and absorb oily dirt from the skin. Doubling as an exfoliate, Kaolin removes dead skin cells from the surface of the skin, leaving it smooth to the touch and feeling deeply cleansed.

DIRECTION TO USE:
Gently scrub the targeted areas in circular motions for a few minutes. Follow with the body lotion or body butter to soothe & close the open pores. Use it twice a week for maximum results.