Description
WHAT MAKES THIS PRODUCT :
Sesame Oil:
Sesame oil contains several phenol compounds, which give it its antioxidant and anti-inflammatory properties. It deeply nourishes to keep skin supple, soft and toned.It also contains vitamin E, which can help protect skin cells from the damage caused by environmental factors & toxins
Beeswax:
Organic Beeswax deeply nourishes, rejuvenates and firms the skin. It has abundant uses in entire skincare regime & also an important ingredient in moustache wax and hair pomades, which make hair look sleek and shiny.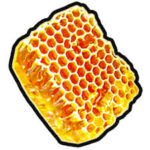 Shea butter:
Shea Butter protects the skin from environmental damage, it has UVB protection which makes it a wonderful ingredient for sun protection. Enriched with Vitamin F, it soothes rough, dry and chapped skin. Its buttery rich consistency makes it ideal for use as a natural eye cream, lip balm, or body butter. It is good at penetrating the skin and contains 60% fat, making it highly emollient. It also delivers key anti-inflammatory and anti-aging components right into the skin